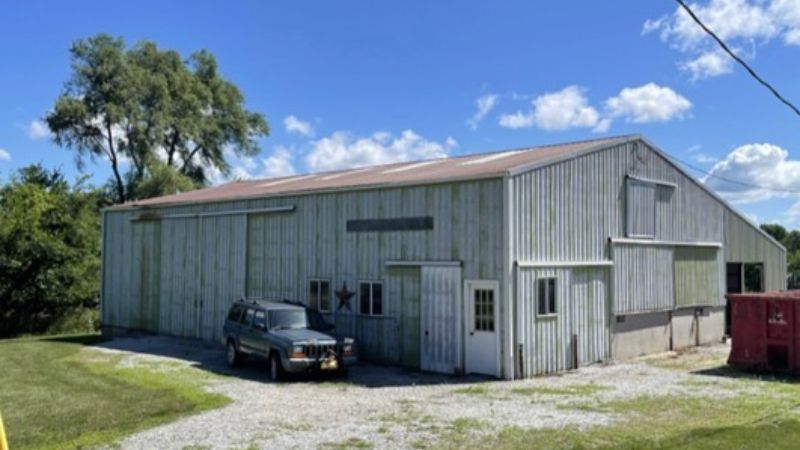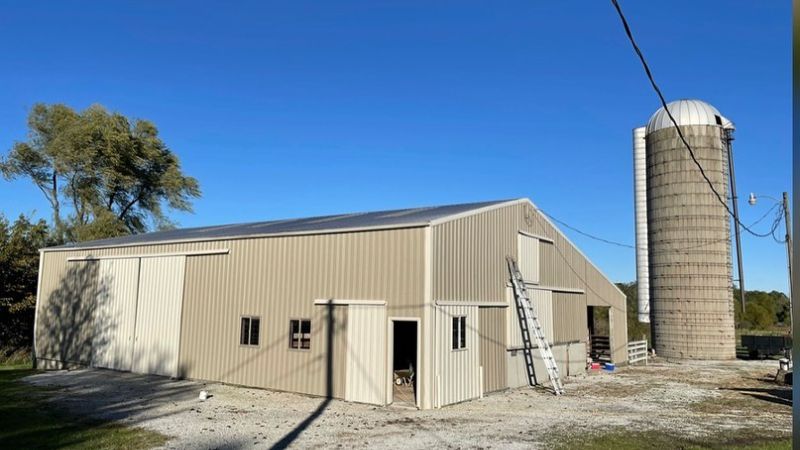 Central Indiana's Farm & Agricultural Coatings Specialists
We paint farm buildings in Fishers, Noblesville, Carmel, Westfield, & Indianapolis
Barns, farm, and agricultural buildings embody the values of hard work, productivity and heritage of family farms in Indiana. They are witness to the role of agriculture in our state's image as well as its economy.
Farm, agricultural buildings and barns have been built to protect and store some of a property owners greatest investments their livestock, their harvest, and their equipment. Farmers and ranchers built their barns and farm buildings not only with practicality in mind, but also aesthetics. The upkeep and maintenance of these buildings by painting and applying the proper protective agricultural coatings to shield them from the weather and corrosion is our area of expertise.
White's Painting and Power Washing is a full service painting contractor serving Central Indiana including Carmel, Fishers, Noblesville, and the surrounding areas in the Indianapolis Metro. We specialize in painting and protective agricultural coatings for metal farm buildings such as barns, grain silos, lean-tos, and more.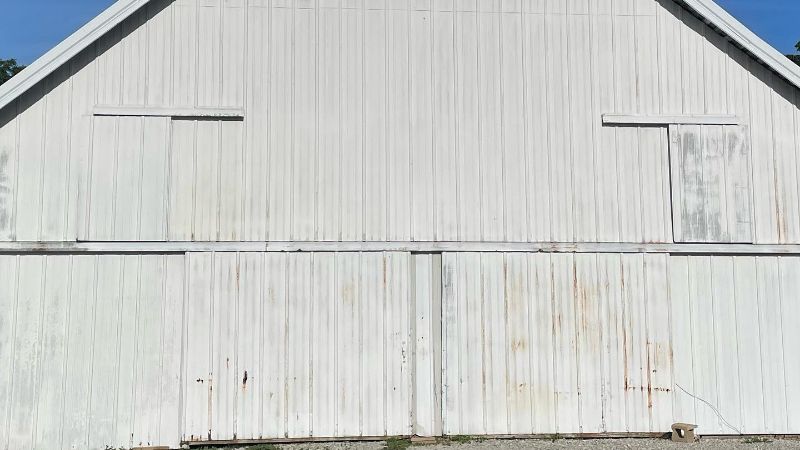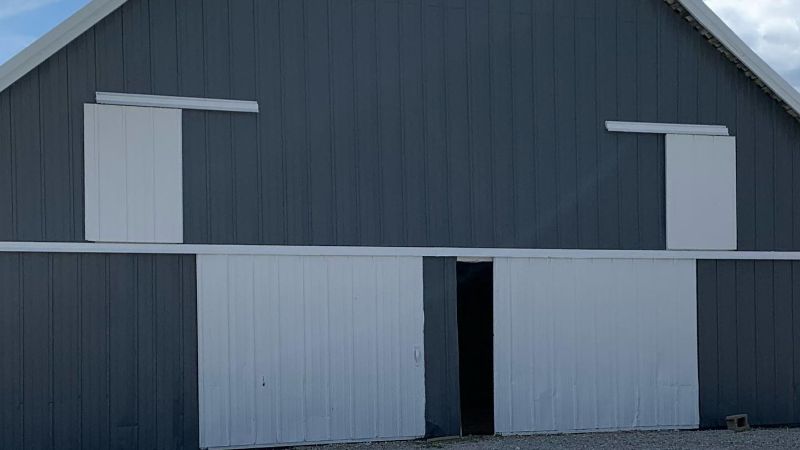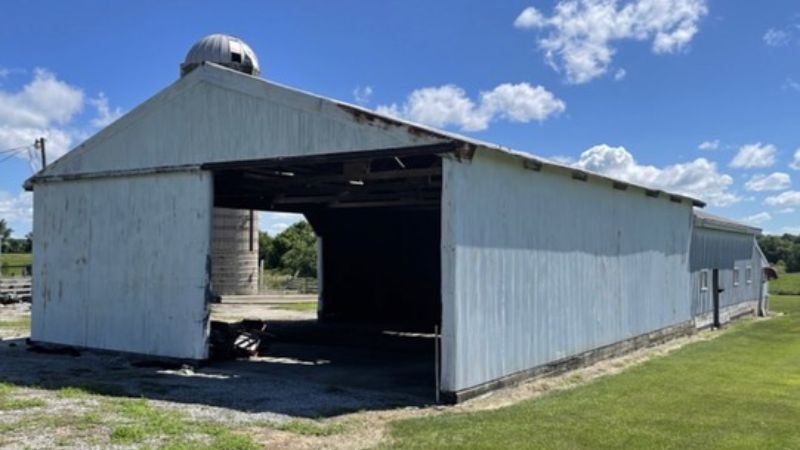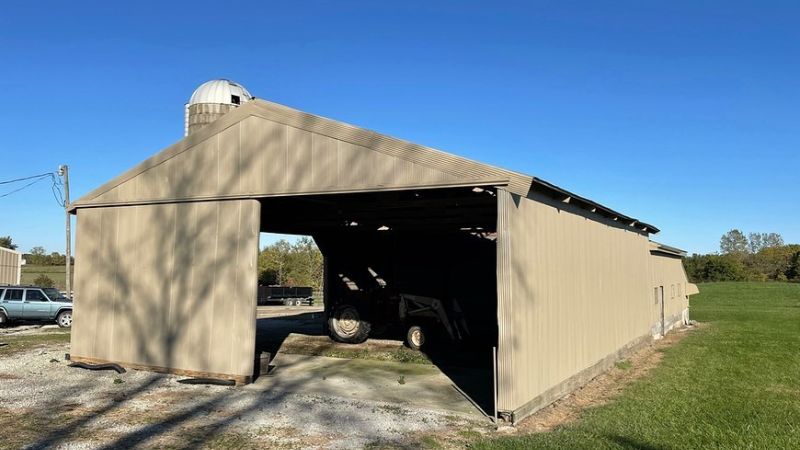 With over 30 years experience in painting and protective coatings for metal farm and agricultural buildings, Whites Painting & Power Washing is the first choice for many Indiana farmers and farm managers looking for the best to maintain the integrity and appearance of their property.
Your Agricultural Coatings Specialists In Central Indiana
Agricultural coatings for farm buildings such as barns, riding arenas, stables, livestock barns, bulk storage buildings, and grain silos serve to protect and extend the life of these structures.
Agricultural coatings must be tougher than regular exterior paint.  Some common features of agricultural coatings for farm buildings include:
Durability: They should be able to withstand exposure to the elements, such as rain, wind, and sun, as well as general wear and tear.
Weather Resistance: The coating should be able to resist damage from exposure to weather, such as fading, chalking, and cracking.
Corrosion Resistance: They should be able to protect the metal building from rust and other forms of corrosion that can cause structural damage.
Ease of Application: The coating should be easy to apply and provide consistent coverage, even in hard-to-reach areas.
Affordability:  Farm buildings and structures are very large or you may have multiple structures.  Agricultural coatings need to be practical and affordable.
By using the right agricultural coatings, farmers can extend the life of their farm buildings and protect their investments.
Why choose us for your agricultural coatings needs?
We are fully equipped to tackle any type of agricultural building painting with no or as little disruption to daily operations as possible.   All surfaces are properly prepared by power washing, sanding, scraping, caulking and priming as required before any paint or coatings are applied.
We use only top of the premium paints and coatings.
We are insured.
We pride ourselves in personal customer service with the owner supervising every job.
We stand behind our workmanship and materials.
We paint barns and farm buildings.
We paint equestrian facilities, stables and arenas.
We paint Morton buildings, pole barns and machine buildings.
We paint metal roofs, steel buildings, grain bins and storage tanks.
An attractive building is an asset to your farm and property, we are your asset protection specialists.  Our agricultural coatings will protect your buildings and keep them looking great.
Call today to speak directly with the owner of a local family owned and operated business who will be happy to arrange a free quote for all of your agricultural building painting and coating needs.
The buildings and facilities on an agricultural property are subject to a lot of abuse.  Everything from the weather to chemicals to being located in a constantly dirty and dusty environment.  Without the proper paints and coatings protecting your buildings from these threats your agricultural facility is going to look pretty weathered in just a few short years.
Corrosion is the enemy of your buildings, your equipment and your livelihood.  We apply agricultural coatings designed to work in your environment.
Whites Painting and Power Washing is a full service industrial painting contractor that specializes in the unique methods and processes for painting and coating the buildings and equipment on agricultural facilities throughout Indianapolis and Central Indiana.  From bulk storage tanks to grain silos, to your metal roofs and metal buildings.
Our experienced team of painters along with our mobile painting shops on wheels can be quickly located to your property to begin prepping and painting your buildings.