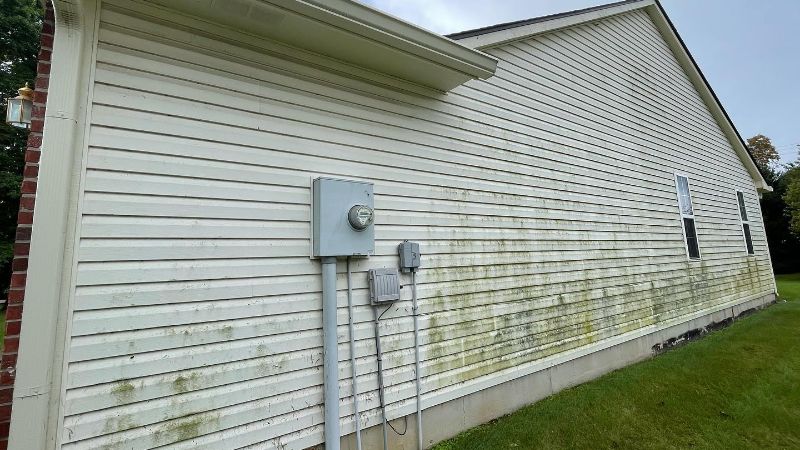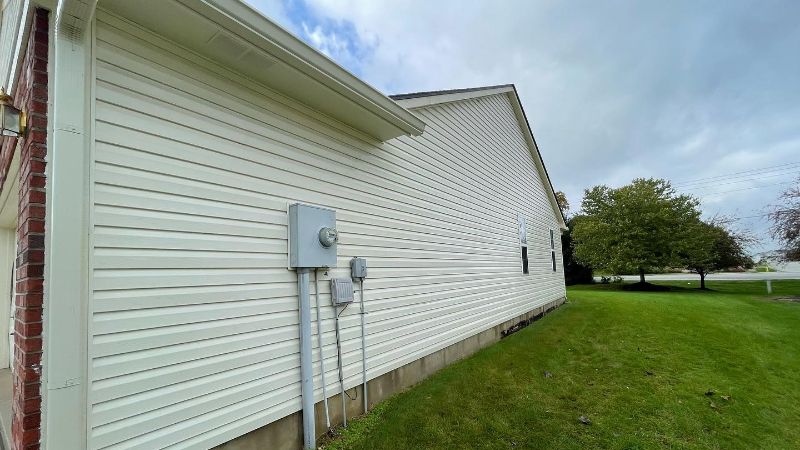 We Specialize In Algae Removal In Fishers, Carmel, Noblesville, and Indianapolis
The green algae and mildew found growing on homes throughout Indiana can actually begin to deteriorate the surface it's growing on if not removed in a timely manner. It can sometimes be very difficult to remove (especially if it's been left for a long time) and makes your home look very dingy and unkempt.  This unsightly algae growth is especially prevalent in areas where there is lots of moisture, little sunlight or sometimes, just enough sunlight for the algae to grow.  Algae removal is a service you likely need.
Think about the morning dew on your siding… Are there areas that are shaded for a good part of the day? These areas are likely to develop algae growth first because the conditions are just right.  Exterior walls on the north facing side of your property are also usually where the algae and mildew will begin to form first.
Another factor for algae growth around the exterior of your building is from the naturally occurring sugars that are commonly found in tree sap. If there are large trees or bushes near your house then you've likely noticed the algae seems to build up in those areas the most. It's not a coincidence, it's science!
White's Painting & Power Washing is a power washing contractor based out of Fishers Indiana and serving the Indianapolis Metro area including Carmel, Fishers, Noblesville, and surrounding areas.  We offer pressure washing services for both commercial and residential clients.  Whether you need to pressure wash the slippery algae growth off your back deck to pressure washing your entire driveway the team at White's Painting & Power Washing can offer algae removal services.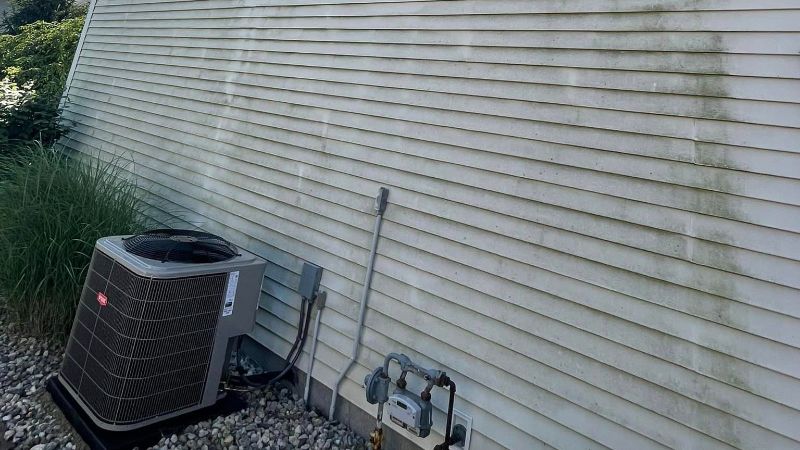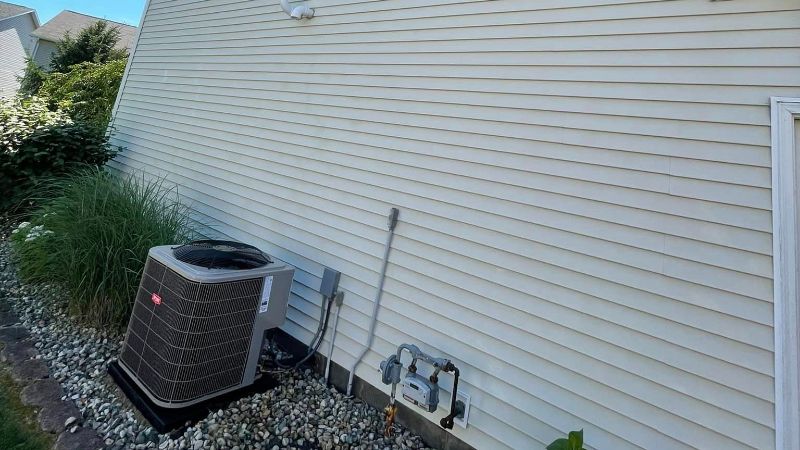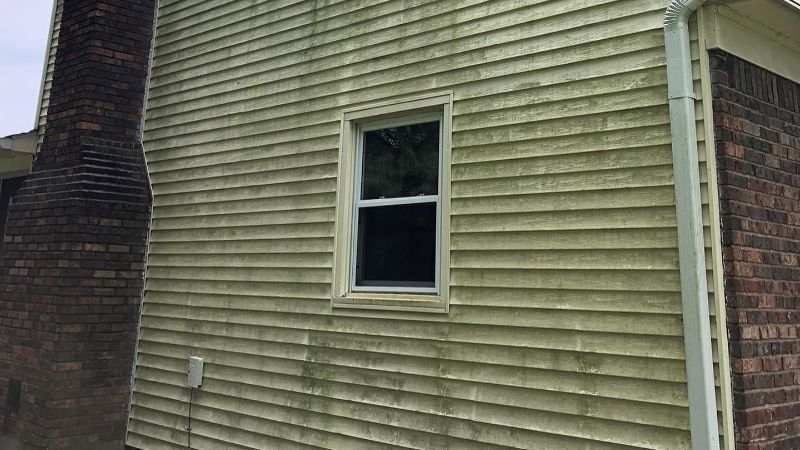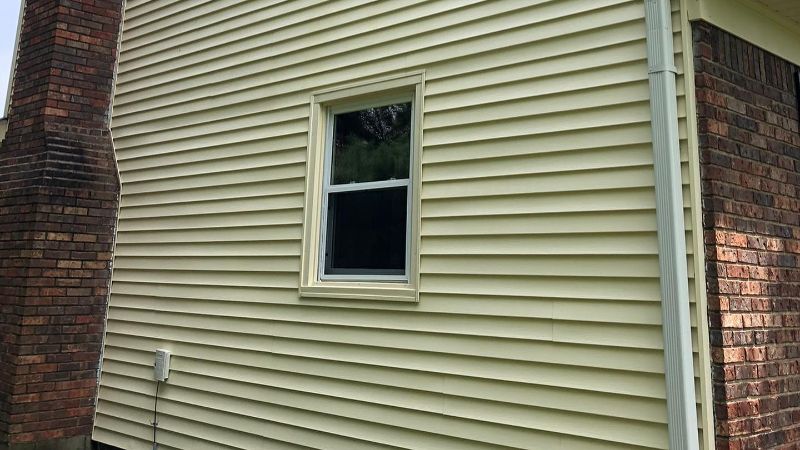 Algae and mildew growth can actually damage and deteriorate surfaces made of wood, vinyl and even metal.
It's not something that happens instantly, but over many years the algae can eat away at the outer layers and after a good powerwashing, while the algae is removed it often exposes the damage they have done to the siding material in the form of etched, dull and failing surfaces.  If you stay on top of it and don't let the algae build up over a period of many years then you can mitigate the damage.
Whites Power Washing and Painting, family operated and run business is phenomenal! Highly recommend this company to anyone and everyone! After entering a request for cost of services on-line, I was contacted within 1 hour and an appointment made at my convenience within 1 week and wow...I was blown away with results of this power washing. They arrived right on time and very professional, knowledgeable and their 30+ years of experience/expertise certainly shows. They knew exactly what needed to be done to turn the grimy/dirty exterior of my house to a clean, algae free house. I don't think my house has ever looked better! After the "soft safe wash" and then power washing, the algae and mildew were gone! Looks like a completely different house! New and literally sparkles! Thank you so much for a great job! Tanya Clary, Noblesville
Based upon the reviews on Google, I reached out to this business to get an estimate on power washing our 2 story home which was covered with algae (thank you Indiana weather). I requested an estimate via their website and response was timely. They were over within a week's time and the estimate was sent to me via email very quickly. Bonus: business included an estimate on doing our deck as a just in case your interested. It was fully separate from my main request. I ended up having them take care of both the house and the deck. Days later, they were out here and both our house and deck look brand new. I didn't think to take before pictures - hopefully they did - because I think that the before and after is remarkable. We haven't always had the best luck in finding businesses that are solid communicators and who also knock it out of the park in terms of execution of services. Thank you for restoring my faith. PS We have a long list of other home improvement needs that we'll be reaching out to you about.
White's Painting and Power Washing Specializes in Algae Removal
We can remove algae with our special process quickly and efficiently. If you have a house that is regularly affected by this problem due to certain natural conditions around your property then we can even setup a scheduled maintenance program so we can keep on top of the algae and make sure it's always washed away before causing a problem.
We Offer Algae Removal From:
Houses, Siding, Gutters and Fascia
Driveways and Sidewalks
Multi-Family Housing Units
Commercial Buildings
Public Facilities and Buildings
Patios, Porches and Decks
Agricultural Buildings
Please Remember ANY type of pressure on your roofing material isn't a very good idea and can void your warranty. We all know that rain and hail can come down fierce and hard when pounded by the wind but it's no match for the concentrated jets of water from a power washing machine, especially with inexperienced hands operating it. You can literally destroy an entire section of your roof in just a few quick seconds.  Stop anyone who is about to use a power washer on your roof and call a professional.
If Algae growth on your building is causing you a problem then give us a call or use one of our contact forms today and we can provide you with a quick estimate for our algae removal service.