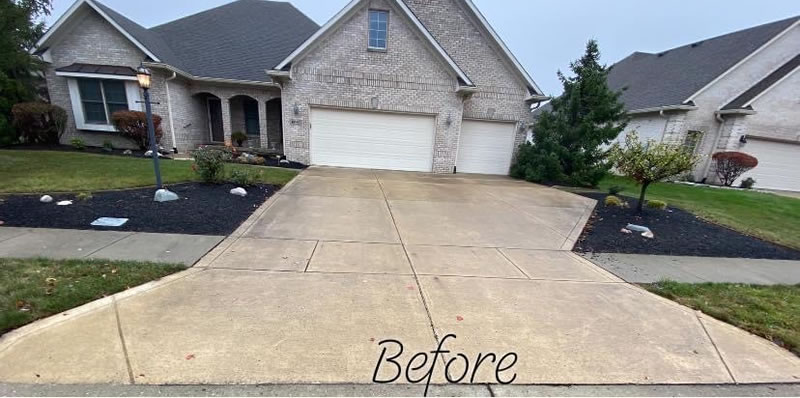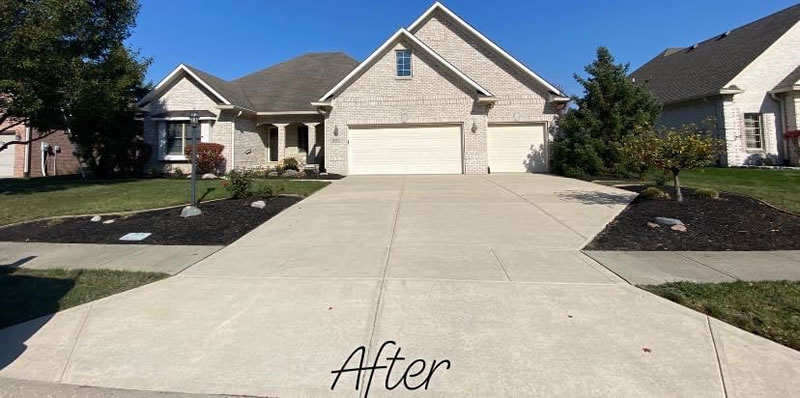 Are You Looking For Concrete Sealing Near Me?
We Provide Concrete Driveway Sealing In Central Indiana
Concrete driveways are built to stand the test of time but you can't just pour it and ignore it and expect it to last forever without any maintenance.  This is where concrete sealing comes into the picture and can help you get many more years out of your concrete.
White's Painting & Power Washing is based out of Fishers, Indiana and serves clients in Fishers, Carmel, Zionsville, and the Indianapolis Metro Area.  We specialize in expertly cleaning concrete and then properly applying a concrete sealer to protect your concrete for years.
Why Do Concrete Driveways Need Sealing In Hamilton County and Central IN?
Once concrete has completely cured, it's very hard, very strong, and one of the most durable surfaces around your property.  But concretes biggest weakness is that it's also very porous.  This means that water and other liquids like such as oil or fuel can penetrate an unsealed concrete surface.  Water can cause cracks and erosion and oil and fuel can cause stains that are very hard to remove.
Most concrete driveway's in our area are broom finished.  This is a way of finishing that creates a very porous surface.  Most new home builds are finishing the concrete driveway this way but they typically do not include concrete sealing to protect the surfaces.
Our harsh winters and constant freeze/thaw cycles, road salt, and other contaminants can harm the surface of your concrete driveway.  The weather and contaminants slowly etch away the cement that holds the aggregate together.  Over time, the concrete can spall, crack or even start to flake away. The key to maintaining your concrete's integrity is to seal it every 2-5 years with a high quality penetrating sealant.
Whether your driveway is brand new or you are rejuvenating an old driveway, the best way to protect your investment is concrete sealing. It is a quick and economical way to prolong the life of your concrete investment.
We Can Apply Deep Penetrating Concrete Sealer To:
Concrete Driveways
Sidewalks & Walkways
Concrete Patios
Concrete Steps
Concrete Garage Floors
Concrete Pool Decks
Penetrating concrete driveway sealer provides very strong protection for concrete.  It is formulated to soak deep into the concrete and it fills and seals the pores and creates a barrier to prevent moisture from absorbing into the surface.  It helps to inhibit and reduce freeze/thaw damage including cracking, spalling, and corrosion.
More Benefits Of Concrete Driveway Sealer:
Penetrating permeable natural look silane/siloxane formula does not create a "slippery" surface.
Seals out moisture to inhibit the growth of mold, mildew and algae.
Leaves no surface film, no sheen and will not discolor.
Reduces spalling and corrosion from moisture and salt.
Low VOC and low odor won't harm people, pets or plants.
Protects your concrete investment from continuous freeze/thaw cycles.
Can be applied in cold weather down to 35°F and hot weather up to 100°F.
Can be applied on damp surfaces, wash and seal the same day.
Fast drying, light foot traffic in 1 hour, drive over in 4-6 hours.
Protects for 2-5 years.
In addition to driveways, some other common areas to apply concrete sealer include:
Sidewalks
Steps
Patios
Garage floors
Porches
Pool decks
Our process includes applying the appropriate biodegradable detergents and power washing all concrete to be sealed to remove mold, mildew, dirt and grime.  After the concrete is dry we machine apply saturation coats of deep penetrating Silane/Siloxane concrete driveway sealer.
If you are thinking of power washing and sealing your concrete in Central IN , why not give White's a call (317) 453-1156 for a free no obligation quote and deal directly with the owners who personally do all the work, you will be happy you did!